by Peter Melamed, PhD and Felix Melamed, LAc, MSTCM, CHt
Almost 50 percent of the population has digestive problems such as gas, bloating, heartburn, abdominal cramps or pain, diarrhea and/or constipation. These are all symptoms of diminished pancreatic function, "aggressive bile," and low amounts of pancreatic digestive enzymes. A weak pancreas causes digestive problems, which simultaneously negatively affect the health of the pancreas.
The current global pandemic of digestive disorders is closely associated to the modern epidemic of intestinal dysbiosis (Candida-yeast overgrowth, Small Intestinal Bacterial Overgrowth, Clostridium difficile infection, etc) and the increasing rate of metabolic acidosis (whole body acidity), causing a vicious damage cycle.
By utilizing a number of proven, non-drug European approaches, you will learn how to heal many digestive (pancreatic) disorders and diseases in their early stages. One approach is generally unknown in the United States: drinking healing mineral water prepared from genuine Karlovy Vary spring salt. Millions of people around the world have used this miracle mineral water to aid digestive health for more than 250 years. You will also find special healing diets used in European clinics to treat different digestive disorders. You may be surprised to learn that acupuncture, herbal medicine, nutritional supplementation, visceral massage, hypnosis, whole body cleansing with the restoration of friendly intestinal flora, colon hydrotherapy and individual exercises may help alleviate many digestive disorders.
Maybe you cannot change the world, but you can give yourself, your patients, or your loved ones years of improved digestion and, therefore, a better quality of life.
EBbook version of HEALTHY PANCREAS, HEALTHY YOU consists of three interrelated parts: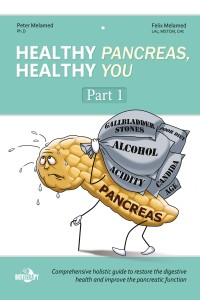 HEALTHY PANCREAS, HEALTHY YOU. Part 1
: Structure, Function, and Disorders of the Pancreas. The pancreas is a vital, mysterious organ in the human body. Millions people suffer from various digestive disorders and almost all of them have poor pancreatic function. Authors explain the connections between pancreas and dyspepsia, IBS, SOD, GERD, stones, pancreatitis, Candida, SIBO, acidosis, alcoholism. It can help focus on healing of digestive (pancreatic) diseases in their early stages. To purchase the eBook, please click
here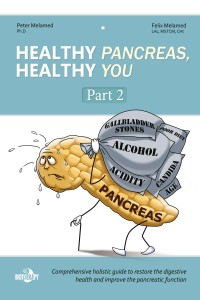 HEALTHY PANCREAS, HEALTHY YOU. Part 2
. Healing Foods in the Digestive (Pancreatic) Disorders Can we naturally increase pancreatic function and relieve many digestive and metabolic disorders by using healthy foods? Pancreas is a core for digestion. This book is the practical guide to healing liver, gallbladder and pancreatic disorders, IBS, GERD, metabolic syndrome, overweight, diabetes, allergy, Candida, acidity by healing foods. What to eat is as effective as when to eat and how to eat. To purchase the e-book, please click
here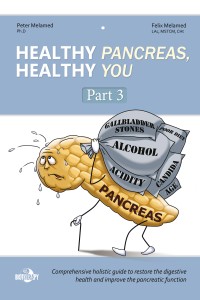 HEALTHY PANCREAS, HEALTHY YOU. Part 3
. How to Improve the Exocrine Pancreatic Function, Postpone Pancreatic Deterioration, and Heal Digestive (Pancreatic) Disorders This book is for patients and medical providers, to explain non-drug treatments of the digestive (pancreatic) and metabolic disorders. There is no proper digestion without proper pancreatic function. Healing mineral water, acupuncture, herbs, supplements, enzymes, probiotics, and even abdominal massage, exercises, and hypnosis can be extremely useful for pancreas and the whole health. To Purchase this book, please click
here
You can read here FOREWORD or read the Table of Content "Healthy Pancreas, Healthy You"