What is colon hydrotherapy?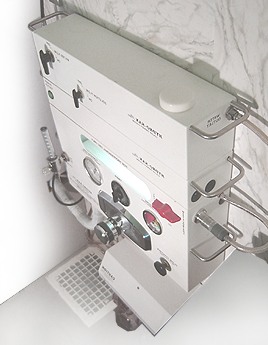 Colon Hydrotherapy (aka colonic, colon irrigation, high colonic, colon cleansing, colonic therapy) is the safe, gentle infusion of warm purified water into the rectum using no chemicals or drugs. This is a restorative, painless procedure that is both relaxing and effective. The individual lies comfortably on a custom treatment table and inserts a small speculum into the rectum. The therapist monitors the temperature of the water infused into and out of the colon (large intestine). The entire procedure takes approximately 45 minutes. The colon hydrotherapy method cleanses the entire colon without stressing the individual. The instrument features disposable components which eliminate any possible contamination from a previous treatment. Biotherapy Clinic uses a closed hydrotherapy system in which waste material is eliminated through the instrument and out a drain line, avoiding any offensive odor and maintaining the dignity of the individual.
How much is your colon hydrotherapy session?
$95 per session in San Francisco and $105 per session in Redwood City. Discounts and discounted programs are available. For a limited time, new clients can receive $10 off at our San Francisco and Redwood City Offices.
What is included in a colon hydrotherapy session?
A colonic session takes about an hour and includes:
– Colonic irrigation with purified water
– Abdominal massage
– FREE consultation about your healing needs
If you need a consultation with an alternative medicine practitioner, we will schedule one for you before or after your appointment.
Do I have to fast before or after my colonic?
No. We only recommend that you do not eat anything heavy (bread, meat) for 2 hours prior to your appointment.
I am on my period. Can I have a colon hydrotherapy session?
There are no contraindications. Just use a tampon.
Do you provide consultations?
Yes, we do! We encourage you to come for a consultation to find out how we can help you. Bring your questions! Bring your problems! Bring your concerns! Let's work together to help you get back on your road to health!
Are your therapists experienced?
Our therapists are well trained, certified and have years of experience.
How many colon hydrotherapy sessions do I need?
It depends on you and what you are trying to achieve. Some people need more sessions, some fewer. The best way to find out is to schedule a consultation with one of our alternative medicine practitioners.
How long has your clinic been in existence?
Biotherapy Clinic has existed since 1975. We have been in San Francisco Bay Area since 1996. Since then, we have performed more than 100 thousands of different procedures (including colon hydrotherapy, acupuncture, hypnosis, others). We have 15,000 clients in the USA. Excellent reviews on yelp.We have helped thousands of people to improve their health. We value our clients very highly and are determined to provide them with the best services possible.
How can I schedule an appointment or a consultation?
The best way to schedule an appointment is to call us at (415) 409-3939 in San Francisco or (650) 365-3640 in Redwood City. You can e-mail your appointment as well. Please state the nature of the appointment needed, the time preferred, and your call back number. We will call you back within 24 hours to confirm or reschedule.
Do you accept credit cards? Personal checks?
We accept Visa, MasterCard, and American Express. Personal checks are also accepted.
My friend (relative) referred me to your clinic. Can I get a referral discount?
If you are referred to us by one of our clients, we will give you and your referring party 15% off on the next colon hydrotherapy session. (One discount per session please). Other discounts are available. Call to inquire.
Is colon hydrotherapy covered by any insurance?
Colon hydrotherapy is not covered by any medical insurance. Colon Hydrotherapy may be covered under medical savings and flexible spending accounts so services may be paid for with pre-tax dollars. In addition, some clients, with insurance acupuncture coverage, combine colon hydrotherapy with ear acupuncture and receive a discount for colon hydrotherapy (colonic). Some restrictions apply. Please contact Felix Melamed, LAc for more information.
Are you easy to find? What about parking?
We have two clinics in San Francisco Bay Area for your convenience: in San Francisco and Redwood City. If you live in Marin County (Sausalito, Mill Valley, San Rafael), Alameda County (Oakland, Berkeley, Hayward, Fremont) or Contra Costa County (Walnut Creek, Lafayette, Orinda), our San Francisco location will be more convenient for you. Located in the heart of San Francisco in Lower Pacific Heights, it is easily accessible by MUNI (bus 38) or by car. Parking on the streets is not terrible in our neighborhood, but could be challenging. There is also a conveniently located, attended parking lot next door to our clinic. Reasonably prices at $6.00/hour, it is both: convenient and secure. Free parking on Saturdays and Sundays.
If you coming from San Mateo County (Palo Alto, Menlo Park, Stanford, Los Altos, San Carlos) or Santa Clara County (San Jose, Mountain View, Los Gatos, Sunnyvale), our Redwood City location in the heart of the Peninsula would be a convenient choice. Located off Whipple Avenue and El Camino Real in Redwood City, it is in close proximity to Highway 101. Neighborhood parking is easy.
For directions and addresses, click here.
What are your business hours? Are you open on the weekends?
Monday through Saturday 8am-8pm
Sunday 9am-4pm (San Francisco only)
We are open most holidays for your convenience.
Do you have more questions? Please call us at (415) 409-3939 or (650) 365-3640 or email. We will be happy to answer!
Not sure which Biotherapy Alternative Medicine Clinic location is closer to you? The following should give you a general idea about the distance between the Bay Area's cities and two offices of Biotherapy Alternative Medicine Clinic.
| | | |
| --- | --- | --- |
| Bay Area Cities | San Francisco Office (distance in miles) | Redwood City Office (distance in miles) |
| Alameda | 16.7 | 32.0 |
| Belmont | 24.3 | 3.8 |
| Berkeley | 14.7 | 37.1 |
| Burlingame | 17.3 | 11.0 |
| Campbell | 52.8 | 26.7 |
| Concord | 31.6 | 58.0 |
| Cupertino | 44.8 | 18.7 |
| Daly City | 9.2 | 23.5 |
| Emeryville | 11.5 | 36.9 |
| Foster City | 23.4 | 6.7 |
| Fremont | 38.7 | 18.8 |
| Half Moon Bay | 31.1 | 16.1 |
| Hayward | 27.8 | 21.0 |
| Hillsborough | 18.6 | 12.3 |
| Los Altos | 38.9 | 13.1 |
| Los Gatos | 54.1 | 28.6 |
| Menlo Park | 31.9 | 4.1 |
| Mill Valley | 12.3 | 39.1 |
| Millbrae | 16.5 | 12.1 |
| Milpitas | 46.9 | 21.4 |
| Mountain View | 39.6 | 14.3 |
| Newark | 37.3 | 14.5 |
| Oakland | 13.2 | 34.4 |
| Pacifica | 16.9 | 21.8 |
| Palo Alto | 35.0 | 8.9 |
| Redwood City | 27.8 | 0 |
| Richmond | 18.8 | 41.2 |
| San Bruno | 13.4 | 14.7 |
| San Carlos | 25.6 | 1.7 |
| San Francisco | 0 | 27.8 |
| San Jose | 49.3 | 23.6 |
| San Leandro | 22.0 | 27.5 |
| San Mateo | 20.7 | 8.1 |
| San Pablo | 20.7 | 43.1 |
| San Rafael | 16.4 | 43.1 |
| Santa Clara | 46.4 | 20.3 |
| Saratoga | 49.2 | 23.7 |
| Sausalito | 7.5 | 34.3 |
| South San Francisco | 11.3 | 16.1 |
| Sunnyvale | 41.7 | 15.9 |
| Tiburon | 15.3 | 42.0 |
| Union City | 34.1 | 16.9 |
| Walnut Creek | 25.9 | 52.1 |