An increasing number of research studies show massage reduces heart rate, lowers blood pressure, increases blood circulation and lymph flow, relaxes muscles, improves range of motion, and increases endorphins (enhancing medical treatment). Although therapeutic massage does not increase muscle strength, it can stimulate weak, inactive muscles and, thus, partially compensate for the lack of exercise and inactivity resulting from illness or injury. It also can hasten and lead to a more complete recovery from exercise or injury.
Research has verified that:
Office workers massaged regularly were more alert, performed better and were less stressed than those who weren't massaged.
Massage therapy decreased the effects of anxiety, tension, depression, pain, and itching in burn patients
Abdominal surgery patients recovered more quickly after massage.
Autistic children showed less erratic behavior after massage therapy.
Physical Benefits of Therapeutic Massage
Helps relieve stress and aids relaxation

Helps relieve muscle tension and stiffness

Fosters faster healing of strained muscles and sprained ligaments;

Reduces muscle spasms

Provides greater joint flexibility and range of motion

Enhances athletic performance

Promotes deeper and easier breathing

Improves circulation of blood and movement of lymph fluids

Reduces blood pressure

Helps relieve tension-related headaches and effects of eye-strain

Enhances the health and nourishment of skin

Strengthens the immune system

Treats musculoskeletal problems
Mental Benefits of Massage Therapy
Increases awareness of mind-body connection

Promotes a relaxed state of mental alertness

Creates body awareness

Helps relieve mental stress

Improves ability to monitor stress signals and respond appropriately

Enhances capacity for calm thinking and creativity

Fosters a feeling of well-being

Reduces levels of anxiety

Biotherapy Clinic in San Francisco Bay Area offers the following massage techniques:
Swedish massage is classic smooth gliding stroke table massage. Light touch with combination of breathing is beneficial for people who don't have enough touch in their daily life. The technique is focused on superficial muscle layers, it stimulates circulation of blood and lymph and relaxes the nervous system.
Deep tissue (myofacial) is a therapy technique working effectively with areas of localized tension, injury or emotional holding. It is usually incorporated in massage session and involves deep pressure applied by thumbs, elbows, fist, and heels of hands.
Trigger point massage is a neuromuscular technique working with deep patterns in the body. Trigger points are areas of exquisite tenderness within muscles that are often involved in chronic pain and dysfunction.
Visceral (abdominal) massage is based on Chi Nei Tsang, a gentle belly work originated in ancient China. It focuses on powerful energy centers located around the navel and abdomen. It releases stuck, toxic energy blockages around small and large intestines. The technique is beneficial for harmonizing the emotions and releasing deep feeling and traumas.
Thai massage is a blending of gentle rocking, rhythmic acupressure and yoga-like stretching massage. It is unmatched in its ability to open joints and increase flexibility.
The technique is practiced on the floor.
Shiatsu is Japanese acupressure technique working along the system of meridians in the body. It is a holistic approach and involves applied pressure by thumbs, elbows, knees, and barefoot. Usually performed on the floor mat.
Massage Therapy F.A.Q.
How often should I have a massage?

The following are general guidelines.

In case of chronic tension or pain 7-10 massage sessions are the most beneficial. The consequent massage sessions produce the changes in your body and make them stay. The interval between massages in this case should be 2-3 days depending on your condition. Body needs 24-48 hours to process the received information. Inquire about a special saving package of 7 massage sessions.

To have a massage twice a month is a good way to prevent many illnesses especially for people working under constant stress at work. To be able to relax will help you to stay clear in your mind and eliminate need for sugar to calm yourself down.

Are there any preparations I need to make before my appointment?

It is best not to eat for at least 90 minutes before your massage treatment. If you are hungry have a warm, easily digested light meal at that time.

Must I undress for my massage?

Massage therapists are required to cover/drape you with a sheet so that they expose only the area which they are working on. You may need to undress for therapy. However, you do not need to expose yourself in any way that you are uncomfortable.

If I bruise easily, can I still get a massage?

It is important to let your massage therapist know about your condition. Massage strokes should be avoided in areas of varicose veins, bruising, or any other areas of acute pain.

Am I expected to talk during the massage?

If you wish to be silent, you should say so at the beginning of the treatment. The therapist may, however, require verbal information pertinent to health findings during the treatment.

What type of massage should I choose?

Usually a massage therapist uses a variety of massage techniques during a session. You will need to communicate with massage therapist regarding the level of applied pressure, if you have a preference or need to work on specific area of the body.

What if I fall asleep during the massage?

Quite often people slow down and fall asleep during a massage session or come to a deep meditation state. Those moments are very precious and healing for your nervous system. It means you are able to relax deeply and rest, and restore your balance.

30 minutes - $40

60 minutes- $70

90 minutes - $90

120 minutes - $ 140

Inquire about a saving package of 7 massage sessions.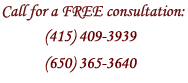 *The statements made in this website have not been evaluated by the Food and Drug Administration. The products and procedures presented at this website are not intended to diagnose, treat, cure or prevent any disease or illness, to prescribe any medication or to be a substitute for medical treatment.