You need to know: Under the Affordable Care Act, acupuncture is included as an essential health benefit. It means that everyone in California is entitled to the acupuncture benefits. Please schedule your appointment with us so we can help you to feel better, stronger, and healthier.
Let us give you 10 reasons to come to Biotherapy Clinic for acupuncture:
Painless, relaxing experience. We do not believe in "no pain, no gain" approach. We believe in helping clients in a pain-free, relaxing environment.
FREE consultations. No pressure. No obligations.
50 years of experience in Western and Holistic medicine.
New client DISCOUNT coupons.
Two convenient locations: San Francisco and Redwood City.
Open weekends and evenings.
We specialize in chronic, hard-to-treat conditions. Many of our clients came to us after visiting numerous other medical practitioners. We hear out client say: "I wish I came here sooner" everyday.
Multidiscipline clinic. Better results by combining acupuncture with other services such as hypnosis, dietary supplementation and modifications and others
We can verify your insurance acupuncture coverage for you. We will do it prior to your first visit to avoid any "surprises". Please call us or fillout this form online . The following insurance providers are known to cover acupuncture services: Aetna, Blue Shield, Blue Cross, United Healthcare, Cigna. There are other insurance carriers that provide the coverage. We also accept Flexible Spending Accounts (FSA). (Please call us for more info)
Excellent reviews on Yelp and testimonials
If you are here, you are interested in acupuncture. In this day and age, most of the people have at least an idea what acupuncture is all about. Acupuncture is the insertion of hair-thin needles into the body at specific points, thereby stimulating and activating the body's self-healing mechanisms. For over 5,000 years acupuncture has been widely practiced in the East. Many millions of people in China, Korea, and Japan, as well as in Europe, Russia, Israel, and many other countries use it. More than one million Americans are currently receiving acupuncture each year. In November 1997 a committee of experts at the National Health Institute gave their medical endorsement to the use of acupuncture as the treatment for a variety of conditions.
However, many people still do not realize how therapeutic acupuncture can be. American medicine now recognizes the benefits of acupuncture. David Ramsey, President of the National Health Institute, has remarked that "ancient practice of acupuncture is an effective therapy for certain medical conditions, especially those involving painful disorders, osteoarthritis, low back pain,  carpal tunnel syndrome, tennis elbow, fibromyalgia, etc." (Time, November 1997).
In a recent study published in Archives of Internal Medicine, acupuncture is hailed as an "effective for the treatment of chronic pain and is therefore a reasonable referral option" More about the study here.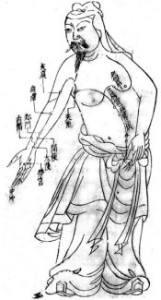 From the viewpoint of modern medicine, the principle action of acupuncture is to regulate the function of the human body and to increase its resistance by enhancing the immune system and the analgesic, antispastic antispasmodic, and antiparalytic abilities of the body.
The following is a list of some of the more common conditions treatable by Chinese Medicine & Acupuncture, as outlined by the World health Organization: Acute sinusitis, Acute rhinitis, Common Cold, Acute tonsillitis, Acute bronchitis, asthma, Acute and chronic gastritis, Chronic duodenal ulcer, Acute and chronic colitis, Constipation, Diarrhea, Headache and migraine, Trigeminal neuralgia, Facial, Peripheral neuropathies, Meniere's disease, Cervicobrachial syndrome, "Frozen shoulder," "tennis elbow", Sciatica, Low back pain, Osteoarthritis and others.
There are many other symptoms and conditions that can be relieved by acupuncture. In our 50 years of experience, we have successfully used acupuncture to help relieve symptoms of Irritable Bowel Syndrome and pancreatitis, skin disorders such as acne, psoriasis and rosacea, liver disorders such as hepatitis and early stages of cirrhosis as well as benign prostatic hyperplasia (BPH) and chronic prostatitis.
Acupuncture can be used to great extend to help with the symptoms of depression, stress and panic attacks, to control cravings during alcohol, drug and smoking cessation, recover from surgery, recover from stroke, osteoporosis, and to promote the weight loss.
Acupuncture treatments are provided by Peter Melamed, LAc, RN, PhD. and Felix Melamed, LAc.
Peter is a licensed acupuncturist in the State of California and New York, not anymore. As a former medical doctor in the Soviet Union, Peter frequently combined conventional Western medical treatment with herbs, acupuncture, and other non-drug healing therapies. Read more about Peter Melamed, LAc, RN, PhD and Felix Melamed, LAc here.
To read more about acupuncture and arthritis, click here.
To read about cosmetic acupuncture, click here